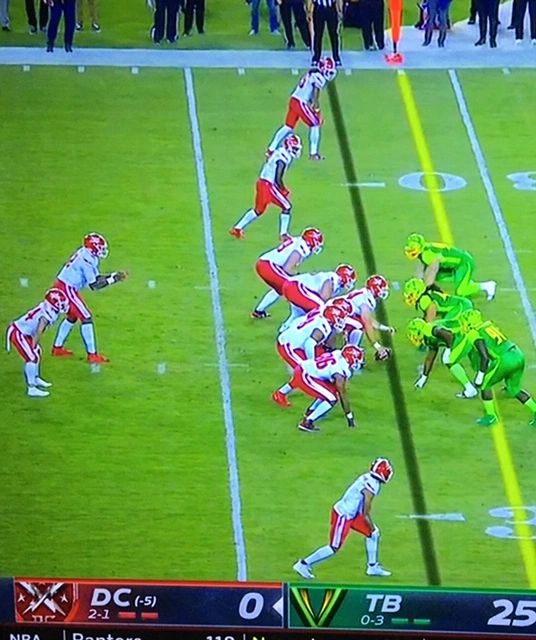 When the Washington DC Defenders hosted the Seattle Dragons in the opening game of the XFL season on Feb. 8, there was a third quarter play that got a lot of people's attention. Defender quarterback Cardale Jones handed the ball off to a teammate on a misdirection play, who handed it to another teammate on a reverse, who then tossed it back to Jones, who passed 30 yards down the right side of the field to wide-open tight end Kahri Lee.
Lee made the catch at about the 20, sidestepped two defenders, and ran past a third as he slid in to the end zone for the touchdown that gave DC an 18-13 advantage.
The television broadcaster captured the excitement: "A man wide open down the sideline—It's Kahri Lee… so long, touchdown! DC Defenders! With some razzle dazzle!"
I can appreciate the XFL for its excitement, and for its innovation, and for the fact that it is providing football during a slow time on the sports calendar.
But I can also appreciate what the XFL is doing because as a former educator, I see that it has provided a model for what should be happening elsewhere.
How is that, you ask?
Well, let's imagine what would happen if schools adopted the following XFL attributes.
1. Do your own thing, even if it is a departure from the long-established norm. The XFL isn't worried about what the National Football League does or what it has accomplished in its 100-year history. Nor does the XFL wish to replicate what the NFL is doing now. Why would anyone want to see a more modest copy of what we already have?
The XFL, on the other hand, can be credited for thinking outside the box, and seems to always be asking, "What if we did this?" or "What if we try that?"
For far too long, schools have been locked in to such a mindset, sometimes not even having the liberty to try something new. But they should.
2. Work with people that others have overlooked. Every XFL game has dozens of players who would give anything to be in the NFL, but realistically speaking not all of them will get there.
But the XFL values their contribution anyway. Instead of wishing they had all the top stars, the XFL works with the players they do have, in many cases providing valuable experience and seeing individual improvement.
Schools should view their students the same way. Not everyone is at the top of the class, but every last one of them can improve. In the current system, there are students who fall through the cracks every year. Sometimes it's because their talents and interests and potential are overlooked. Sometimes it's because they are given up on entirely.
3. Create a buzz on social media and through your website. The XFL has gotten a host of people involved on Twitter, and most of them believe in what the league is doing, and they're providing tremendous help in promoting all the XFL's positives. Each tweet involves insights, statistics, inside information, questions that encourage fan participation, interesting Twitter polls, and more.
The website at XFL.com is also a quality effort. Most traditional newspapers and online publications are not giving the XFL as much attention as other sports, if at all, but almost everything you would want to know is made available by the league online. And the XFL is keeping it current, fresh, and interesting.
In this day and age, schools need to have—not just a daily presence in cyberspace—but a high quality experience in cyberspace, and it is recommended that each school district have marketing specialists who can make that happen.
An innovative school cannot afford to not be putting its best foot forward. Always.
4. Arrange for good media attention. The XFL is on every week on Fox, ABC, ESPN, Fox Sports 1, and ESPN2. To get XFL games, no one has to look for live streaming or hope to be able to tune in to an obscure network. Everything is quite accessible.
Back in the 1970s, there was a 12-team professional league called the World Football League and it failed after a very brief history. One of the reasons for its demise is that it never secured a lucrative television deal. Because games were not always televised, it was hard for fans to get excited about what the WFL had to offer.
A school today does not have to have national media attention, but at the very least, it should have the attention of every local media outlet. And there needs to be some positives out there every single day. No one has to work hard to make sure that bad news gets out, but a deliberate effort is required to make sure all of the good news and an upbeat spirit is in the forefront every day. The ongoing message—like that of the XFL—should be that we are innovative, exciting, and successful.
The entire school PR effort should make the school's patrons feel the same way that they do when they hear Kool and the Gang's 1980 hit Celebration.
5. Be innovative. The XFL has different rules for kickoffs, the running of the clock, and for points earned after a touchdown. When a team has the option of going for one point, two points, or three points after a touchdown, they are less likely to be out of the game with only a minute or two left to play.
The most innovative schools today are completely re-thinking grades, school day schedules, classroom lessons, and traditional teaching strategies. And many of them are seeing an increase in student interest and student achievement.
6. Make it fun. For several years now, most football fans have noticed a big difference in the feel of college football games on Saturdays and NFL games on Sunday. The college experience has more energy. The professional games, even though they feature a good product, are more corporate and business-like. When an XFL game gets underway, it seems to have some of the feel as when a college game kicks off.
NFL games on television can be extremely exciting, but far too often it seems like everyone is just going to work. It doesn't seem that way in the XFL.
The lesson for schools? Don't make it dull when it doesn't have to be. (See also the aforementioned Kool and the Gang Celebration reference)
7. Be transparent. During any XFL game, you can hear coaches talking to players and calling plays via an electronic communication from the coach's mouth in to a player's helmet. And the television broadcast can tune in to that dialogue before any given play. Viewers can also listen to discussions among game officials and those who are in the replay booth. Add to that several in-game interviews (many of them with players immediately after a big play) and you have allowed the fans to see virtually everything that is going on.
In an innovative school—other than confidential issues that involve students and employees—there should be a high level of transparency.
One of the greatest school architectural ideas in recent years is having a classroom with an entire wall made of one-way glass or a one-way mirror. On the other side of that glass, in a small auditorium setting, visitors, parents, other teachers, or aspiring teachers can see and hear everything that is going on without interrupting anything. The room can be used by every teacher in the school on a rotating basis.
Finally – For all of these reasons, I'm going to watch the XFL again this weekend. But when it comes to schools? Well, I think it's important for every educator to ask, "How many reasons are we providing for people to get enthused about what we're doing?"
__________
David Wilson is the author of Learning Every Day and Growing Up With Pro Football, available at https://amazon.com/author/dwilsonnotes